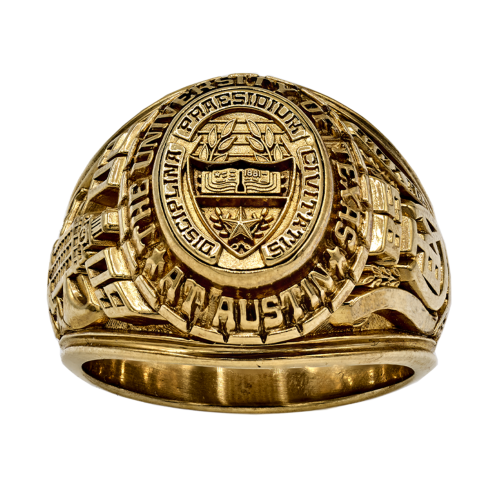 The official class ring of The University of Texas at Austin is a distinct symbol commemorating the unique and lifelong affiliation each graduate has with the University.
Designed for and by UT students, each ring is handcrafted for the University through an exclusive partnership with the central Texas artisans at Balfour.
The ring's design is steeped in UT history dating back to 1927 when the first class of UT seniors bought a "University of Texas" ring. The original design was by Mrs. Darrell Jackson, a technician in the Department of Zoology, and was crafted in ten-karat gold and set with a garnet stone. Rich in symbolism, one side of the ring included the image of a Longhorn with a lariat looped through the horns, the number "27," a lone star, and a wreath of Texas cacti. The other side specified the graduate's degree and included the crest, a scroll and a wreath of bluebonnets. Through the years, the design became available in a variety of styles and adaptations. Although attractive, the multiple designs lacked a cohesive symbolic message.
A student group worked with the Texas Exes, university administrators and the central Texas ring company Balfour, to create a class ring that became the official class ring of The University of Texas at Austin in 1997.
The official University of Texas ring captures the essence of life on and around the Forty Acres. Each symbol adorning the ring was carefully chosen to capture the pride and passion of UT students. The symbol of the Texas Exes, the Silhouette Longhorn, the Tower, and the phrase that touches the hearts of alumni all over the world, "The Eyes of Texas Are Upon You." are symbols representing the spirit of UT culture.  Elements from the University's seal form the crest of the ring and provide the official academic designation for those wearing the rings as being affiliated with the University.
Once students complete 75 credit hours, they become eligible to purchase and wear their ring with pride. Students are presented their rings by their family members or special guests at the Ring Celebration, hosted once per semester by the Texas Exes. This rite of passage acknowledges the successes students have achieved as they near the completion of their degrees.
The official University of Texas ring serves as an honorable symbol for all past and future graduates. It surpasses time and forms a common bond between Texas Exes and the institution that played a key role in helping them shape their future. For more information or to purchase a ring, please visit Texas Exes website.