To assist with making your visit to campus safe and enjoyable, please note the following safety procedures are in place for the University-Wide Commencement Ceremony at Darrell K Royal-Texas Memorial Stadium.
Note: venues hosting college and school ceremonies may have different security requirements. Colleges and schools will share this information with their graduates. Please confirm the security protocol for specific ceremonies before arriving. 
A clear bag policy is in effect to enhance existing security measures and expedite venue entry at Texas Athletics event facilities on the Forty Acres.
Approved bags include:
LARGE BAGS: Bags or totes that are clear and do not exceed 12" x 6" x 12"
SMALL BAGS: Each person is allowed one large clear bag and one small clutch. Small clutch bags or purses do not have to be clear but cannot exceed 4.5" x 6.5"
Small bags must not be larger than 4.5" x 6.5"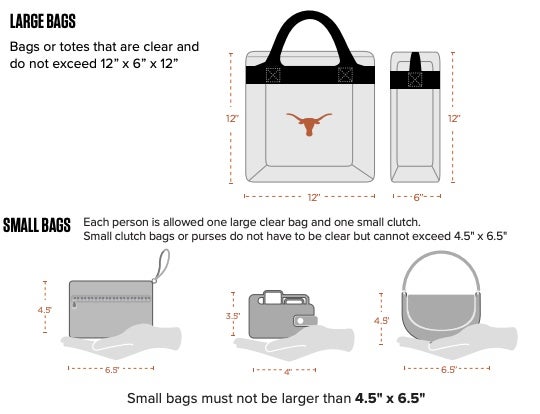 Prohibited bags include:
Non-clear bags that exceed 4.5" x 6.5" OR clear bags that exceed 12" x 6" x 12". This includes items such as grocery totes, mesh or straw bags, duffle bags, diaper bags, camera/binocular cases, and any other bags that stadium event staff deem do not meet the clear bag policy.
For more information, visit the Texas Sports Steer Clear FAQ page. 
Prohibited Items 
The Texas Athletics team is committed to maintaining a safe and enjoyable environment for all of those who attend Commencement at DKR-TMS. This Prohibited Items list is subject to change.
Artificial noisemakers

These items can cause distractions for participants and officials in the game.

Large bags (see Clear Bag policy above)
Banners, flags, flag poles, selfie sticks, signs, umbrellas, etc.
Cameras with detachable lenses greater than 10", GoPros, video cameras and tripods
Coolers
Explosive and flammable materials, disabling chemicals and other dangerous items
Flower vases. Bouquets of flowers are allowed, but glass or plastic vases are not permitted. 
Food

Snacks needed for medical purposes are allowed.
No other outside food is permitted.
Water: One sealed (soft plastic) bottle of water (up to one liter) is permitted. No other outside beverages or beverage containers are permitted (including Yeti or similar products)

Free water fountains are available to refill.
Should you need water or hydration support, our St. David's EMS partners can assist you.

Items deemed a safety hazard or annoyance (Frisbees, balloons, projectiles, laser pointers, fireworks, firearms, weapons, etc.)
Pets (except service dogs)

Only service dogs are allowed into the stadium. Any other type of animal is not permitted.
Texas Athletics operates under the same rules and regulations as the UT Austin campus. As such, we only permit service dogs into our venues.
The service dog should be wearing identifiable attire and be harnessed or tethered in some fashion.
Strollers
Tobacco products (See smoking and tobacco policy on UTexas.edu)

The University of Texas became a tobacco-free campus in 2012. Campus policy prohibits the use of any tobacco products on the property including parking areas, parking structures, lawns and sidewalks. All forms of tobacco including, but not limited to, cigarettes, e-cigarettes, cigars, and smokeless tobacco are banned from campus.

Weapons

No weapons of any kind are permitted in DKR-Texas Memorial Stadium, Moncrief-Neuhaus Athletics Center, or in any designated UT venue. Any individual carrying a weapon on campus must secure their weapon in their vehicle or other property prior to entering the building. This policy does not include weapons used by off-duty law enforcement officers.
The Campus Carry law (S.B. 11) does not pertain to sporting events on campus. No weapons of any kind are permitted in Texas Athletics sporting events. For full details on Campus Carry, visit UTexas.edu. 
Security officers will search all bags before attendees will be permitted to enter. Those with prohibited items will be turned away.